---
Astronomy Online Store
.
Reload the page (F5 key) to see a random selection of items below.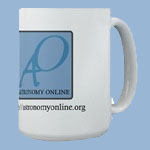 ---
---
Stumble It!

Welcome to Astronomy Online
A legally blind photographer/astronomer on disability so I use this site to contribute to society.

Last Updated: October 24, 2012 added graphics for the 88 constellations under Observation/The Night Sky.

This site is a testament that even though I have a physical disability - legally blind - I can still do things that helps other people. I even have a new project: Astro-Drummer, a site dedicated to my other hobby.
I also have a new image gallery. I call it Second Site Image Gallery.
This is an educational website. It's never too late to learn astronomy, even for those who have not completed their primary (High School) education. A GED can get you in the door to college level courses.

InboxAstronomy:
Monstrous Cloud Boomerangs Back to Our Galaxy The old adage "what goes up must come down" even applies to an immense cloud of hydrogen gas outside our Milky Way galaxy. First discovered in the 1960s, the comet-shaped cloud is 11,000 light-years long and 2,500 light-years across. If the cloud could be seen in visible light, it would span the sky with an apparent diameter 30 times greater than the size of the full moon. The cloud, which is invisible at optical wavelengths, is plummeting toward our galaxy at nearly 700,000 miles per hour. Hubble was used to measure the chemical composition of the cloud as a means of assessing where it came from. Hubble astronomers were surprised to find that the cloud, which is largely composed of hydrogen, also has heavier elements that could only come from stars. This means the cloud came from the star-rich disk of our galaxy. The Smith Cloud is following a ballistic trajectory and will plow back into the Milky Way's disk in about 30 million years. When it does, astronomers believe it will ignite a spectacular burst of star formation, perhaps providing enough gas to make 2 million suns.

APOD:
MWC 922: The Red Square Nebula Image Credit & Copyright: Peter Tuthill (Sydney U.) & James Lloyd (Cornell)
Explanation: What could cause a nebula to appear square? No one is quite sure. The hot star system known as MWC 922, however, appears to be embedded in a nebula with just such a shape. The featured image combines infrared exposures from the Hale Telescope on Mt. Palomar in California, and the Keck-2 Telescope on Mauna Kea in Hawaii. A leading progenitor hypothesis for the square nebula is that the central star or stars somehow expelled cones of gas during a late developmental stage. For MWC 922, these cones happen to incorporate nearly right angles and be visible from the sides. Supporting evidence for the cone hypothesis includes radial spokes in the image that might run along the cone walls. Researchers speculate that the cones viewed from another angle would appear similar to the gigantic rings of supernova 1987A, possibly indicating that a star in MWC 922 might one day itself explode in a similar supernova.

APOD:
A Five Planet Dawn Image Credit & Copyright: Jose Antonio Hervás
Explanation: As January closes and in the coming days of February, early morning risers can spot the five naked-eye planets before dawn. Though some might claim to see six planets, in this seaside panoramic view all five celestial wanderers were found above the horizon along with a bright waning gibbous Moon on January 27. Nearly aligned along the plane of the ecliptic, but not along a line with the Sun, the five planets are spread well over 100 degrees across the sky. Just arriving on the predawn scene, fleeting Mercury stands above the southeastern horizon in the golden light of the approaching sunrise.
---
Astronomy Online is a personal resource of mine that is made public. Please enjoy the site.

---

ARCHIVED BLOG ENTRIES

---
Advertising within text will be in italics with a link to the ad source.
Observation - This section includes information on coordinate systems, constellations, objects visible in the night sky, and some images of the night sky of the northern and southern hemispheres.
Science - This section includes information on some of the basic science used in astronomy. There is information on the variety of tools used (like telescopes) as well as methods of using them. There is a mathematics primer, introduction to some physical processes, formulas used in astronomy, and information on computer use in Astronomy.

Solar System - As indicated, this section covers our Solar System and everything in it. It covers the Sun, planets, their moons, asteroids, comets and exotic objects like TNO's and Kuiper Belt Objects.
Stars - This section covers stars in our own galaxy. It covers the variety of stellar evolution paths. It also covers supernova, black holes, and some of the radiative processes in the interstellar medium.

Our Galaxy - This section covers our galaxy as well as some of the nearby galaxies in our own Local Group. It also covers galaxy evolution.
Cosmology - This section covers other galaxies and galaxies clusters. It also covers the big bang, relativity and dark matter.
Astrobiology - This section covers the relatively new field in astronomy - the possibility of life in our Solar System and the Universe. There is also information on some of the projects dealing with this - like SETI.

Exoplanets - This section covers the study of planets known to exist around other stars. It covers both amateur and professional involvement and shows you how you can get involved with the search as well.

Astrophotography - This section covers the fastest growing hobby of astrophotography. This section offers information and tips on photography and also features and Image Gallery.
Advertisement
Braindumps Testking 000-105 640-816 SY0-201 70-662 650-987 70-642 1Y0-A18 E22-275