Welcome to Astronomy Online
A legally blind photographer/astronomer on disability so I use this site to contribute to society.


Last Updated: added graphics for the 88 constellations under Observation/The Night Sky.


This site is a testament that even though I have a physical disability - legally blind - I can still do things that helps other people.

I also have a new image gallery. I call it Second Site Image Gallery.

This is an educational website. It's never too late to learn astronomy, even for those who have not completed their primary (High School) education. A GED can get you in the door to college level courses.

!-->

Visit this page: https://www.advancedwriters.com/custom-research-paper/ and get Astronomy research project writing assistance for University classes.

A guide to teach kids to draw at imagiplay.com.

3dinsider.com - 3D printers are changing science fast.


APOD:
The Crab from Space Image Credit: NASA - X-ray: CXC, Optical: STSCI, Infrared: JPL-Caltech,
Explanation: The Crab Nebula is cataloged as M1, the first object on Charles Messier's famous list of things which are not comets. In fact, the Crab is now known to be a supernova remnant, expanding debris from the death explosion of a massive star. This intriguing false-color image combines data from space-based observatories, Chandra, Hubble, and Spitzer, to explore the debris cloud in X-rays (blue-white), optical (purple), and infrared (pink) light. One of the most exotic objects known to modern astronomers, the Crab Pulsar, a neutron star spinning 30 times a second, is the bright spot near picture center. Like a cosmic dynamo, this collapsed remnant of the stellar core powers the Crab's emission across the electromagnetic spectrum. Spanning about 12 light-years, the Crab Nebula is 6,500 light-years away in the constellation Taurus.

APOD: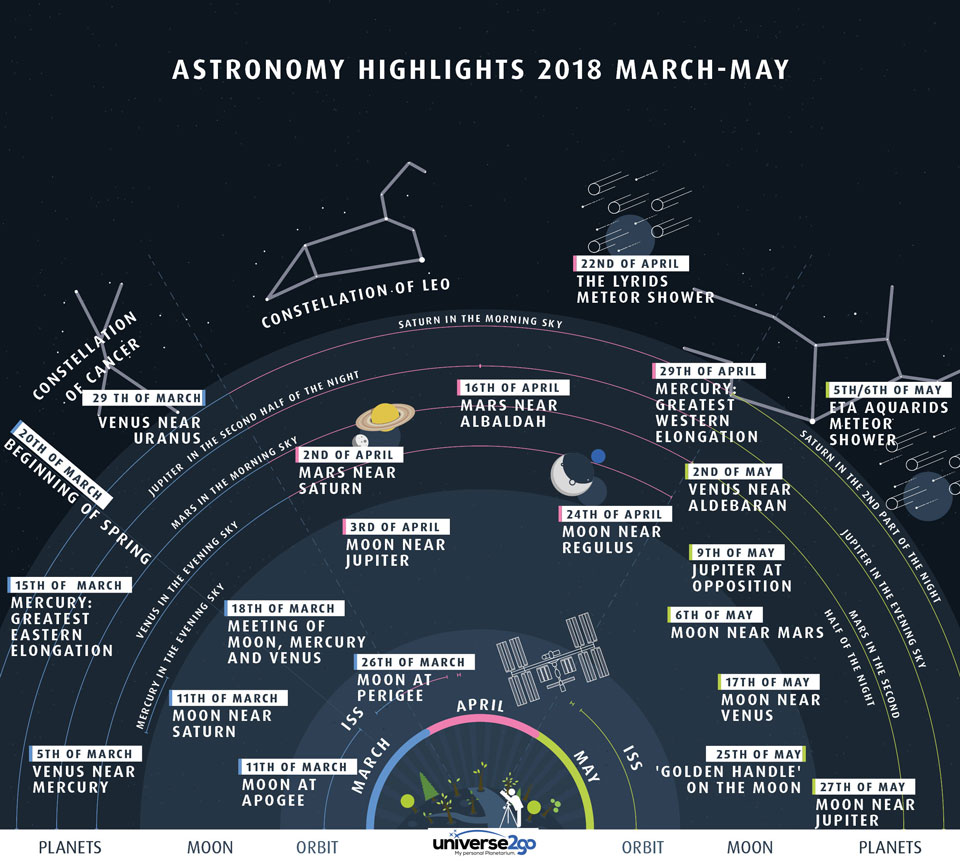 Night Sky Highlights: March to May Illustration Credit & Copyright: Universe2go.com
Explanation: What might you see in the night sky over the next few months? The featured graphic gives a few highlights. Viewed as a clock face centered at the bottom, sky events in March fan out toward the left, April toward the top, and May toward the right. Objects relatively close to Earth are illustrated, in general, as nearer to the cartoon figure with the telescope at the bottom center -- although almost everything pictured can be seen without a telescope. Sky highlights this season include a bright Venus in the evening sky during March, the Lyrids meteor shower during April, and Jupiter entering the evening sky during May. As true in every season, the International Space Station (ISS) can be sometimes be found drifting across your sky if you know just when and where to look.
---
---
Astronomy Online is a personal resource of mine that is made public. Please enjoy the site.

---

ARCHIVED BLOG ENTRIES

---
Advertising within text will be in italics with a link to the ad source.
Observation - This section includes information on coordinate systems, constellations, objects visible in the night sky, and some images of the night sky of the northern and southern hemispheres.
Science - This section includes information on some of the basic science used in astronomy. There is information on the variety of tools used (like telescopes) as well as methods of using them. There is a mathematics primer, introduction to some physical processes, formulas used in astronomy, and information on computer use in Astronomy.

Solar System - As indicated, this section covers our Solar System (See Solar System App) and everything in it. It covers the Sun, planets, their moons, asteroids, comets and exotic objects like TNO's and Kuiper Belt Objects.
Stars - This section covers stars in our own galaxy. It covers the variety of stellar evolution paths. It also covers supernova, black holes, and some of the radiative processes in the interstellar medium.

Our Galaxy - This section covers our galaxy as well as some of the nearby galaxies in our own Local Group. It also covers galaxy evolution.
Cosmology - This section covers other galaxies and galaxies clusters. It also covers the big bang, relativity and dark matter.
Astrobiology - This section covers the relatively new field in astronomy - the possibility of life in our Solar System and the Universe. There is also information on some of the projects dealing with this - like SETI.

Exoplanets - This section covers the study of planets known to exist around other stars. It covers both amateur and professional involvement and shows you how you can get involved with the search as well.

Astrophotography - This section covers the fastest growing hobby of astrophotography. This section offers information and tips on photography and also features and Image Gallery.
Find the best telescope reviews at our site.
Advertisement
QuitSmokingCommunity.org | American Cancer Society | Mesothelioma Cancer Resources | Cerebralpalsy Guidance | Recall Report