---
Astronomy Online Store
.
Reload the page (F5 key) to see a random selection of items below.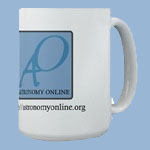 ---
---
Stumble It!

Welcome to Astronomy Online
A legally blind photographer/astronomer on disability so I use this site to contribute to society.

Last Updated: October 24, 2012 added graphics for the 88 constellations under Observation/The Night Sky.

This site is a testament that even though I have a physical disability - legally blind - I can still do things that helps other people. I even have a new project: Astro-Drummer, a site dedicated to my other hobby.
I also have a new image gallery. I call it Second Site Image Gallery.
This is an educational website. It's never too late to learn astronomy, even for those who have not completed their primary (High School) education. A GED can get you in the door to college level courses and a good place to start is a website like Kokopeli High School Academy - free evaluation and a 75% success rate.

InboxAstronomy:
NASA's Hubble Observations Suggest Underground Ocean on Jupiter's Largest Moon Nearly 500 million miles from the Sun lies a moon orbiting Jupiter that is slightly larger than the planet Mercury and may contain more water than all of Earth's oceans. Temperatures are so cold, though, that water on the surface freezes as hard as rock and the ocean lies roughly 100 miles below the crust. Nevertheless, where there is water there could be life as we know it. Identifying liquid water on other worlds — big or small — is crucial in the search for habitable planets beyond Earth. Though the presence of an ocean on Ganymede has been long predicted based on theoretical models, NASA's Hubble Space Telescope found the best evidence for it. Hubble was used to watch aurorae glowing above the moon's icy surface. The aurorae are tied to the moon's magnetic field, which descends right down to the core of Ganymede. A saline ocean would influence the dynamics of the magnetic field as it interacts with Jupiter's own immense magnetic field, which engulfs Ganymede. Because telescopes can't look inside planets or moons, tracing the magnetic field through aurorae is a unique way to probe the interior of another world.

APOD:
Naked Eye Nova Sagittarii 2015 No. 2 Image Credit & Copyright: Ajay Talwar (The World at Night)
Explanation: It quickly went from obscurity to one of the brighter stars in Sagittarius -- but it's fading. Named Nova Sagittarii 2015 No. 2, the stellar explosion is the brightest nova visible from Earth in over a year. The featured image was captured four days ago from Ranikhet in the Indian Himalayas. Several stars in western Sagittarius make an asterism known as the Teapot, and the nova, indicated by the arrow, now appears like a new emblem on the side of the pot. As of last night, Nova Sag has faded from brighter than visual magnitude 5 to the edge of unaided visibility. Even so, the nova should still be easily findable with binoculars in dark skies before sunrise over the next week.

APOD:<!img src="http://apod.nasa.gov/apod/image/1503/MMSLaunch_cooper_1050.jpg" align="left" border="1" width="175" hspace="4" vspace="4">Powers of Ten Video Credit & Copyright: Charles & Ray Eames (Eames Office)
Explanation: How different does the universe look on small, medium, and large scales? The most famous short science film of its generation gives breathtaking comparisons. That film, Powers of Ten, originally created in the 1960s, has now been officially posted to YouTube and embedded above. Please click the above arrow to see the nine minute movie for yourself. From a picnic blanket near Chicago out past the Virgo Cluster of Galaxies, every ten seconds the film zooms out to show a square a factor of ten times larger on each side. The video then reverses, zooming back in a factor of ten every two seconds and ends up inside a single proton. The Powers of Ten sequence is actually based on the book Cosmic View by Kees Boeke in 1957, as is a similar but mostly animated film Cosmic Zoom that was also created in the late 1960s. The changing perspectives are so enthralling and educational that sections have been recreated using more modern computerized techniques, including the first few minutes of the movie Contact, and in a short digital video called The Known Universe created in 2010 for the American Museum of Natural History. Ray and husband Charles Eames, the film's creators, were known as quite visionary spirits and even invented their own popular chair.
---
Astronomy Online is a personal resource of mine that is made public. Please enjoy the site.

---

ARCHIVED BLOG ENTRIES

---
Advertising within text will be in italics with a link to the ad source.
Observation - This section includes information on coordinate systems, constellations, objects visible in the night sky, and some images of the night sky of the northern and southern hemispheres.
Science - This section includes information on some of the basic science used in astronomy. There is information on the variety of tools used (like telescopes) as well as methods of using them. There is a mathematics primer, introduction to some physical processes, formulas used in astronomy, and information on computer use in Astronomy.

Solar System - As indicated, this section covers our Solar System and everything in it. It covers the Sun, planets, their moons, asteroids, comets and exotic objects like TNO's and Kuiper Belt Objects.
Stars - This section covers stars in our own galaxy. It covers the variety of stellar evolution paths. It also covers supernova, black holes, and some of the radiative processes in the interstellar medium.

Our Galaxy - This section covers our galaxy as well as some of the nearby galaxies in our own Local Group. It also covers galaxy evolution.
Cosmology - This section covers other galaxies and galaxies clusters. It also covers the big bang, relativity and dark matter.
Astrobiology - This section covers the relatively new field in astronomy - the possibility of life in our Solar System and the Universe. There is also information on some of the projects dealing with this - like SETI.

Exoplanets - This section covers the study of planets known to exist around other stars. It covers both amateur and professional involvement and shows you how you can get involved with the search as well.

Astrophotography - This section covers the fastest growing hobby of astrophotography. This section offers information and tips on photography and also features and Image Gallery.
Advertisement
Braindumps Testking 000-105 640-816 SY0-201 70-662 650-987 70-642 1Y0-A18 E22-275