---
Astronomy Online Store
.
Reload the page (F5 key) to see a random selection of items below.
---
---
Stumble It!

Welcome to Astronomy Online
A legally blind photographer/astronomer on disability so I use this site to contribute to society.

Last Updated: October 24, 2012 added graphics for the 88 constellations under Observation/The Night Sky.

This site is a testament that even though I have a physical disability - legally blind - I can still do things that helps other people. I even have a new project: Astro-Drummer, a site dedicated to my other hobby.
I also have a new image gallery. I call it Second Site Image Gallery.
This is an educational website. It's never too late to learn astronomy, even for those who have not completed their primary (High School) education. A GED can get you in the door to college level courses.

InboxAstronomy:
Hubble Zooms in on Shrapnel from an Exploded Star Not long before the dawn of recorded human history, our distant ancestors would have witnessed what appeared to be a bright new star briefly blazing in the northern sky, rivaling the glow of our moon. In fact, it was the titanic detonation of a bloated star much more massive than our sun. Now, thousands of years later, the expanding remnant of that blast can be seen as the Cygnus Loop, a donut-shaped nebula that is six times the apparent diameter of the full moon. The Hubble Space Telescope was used to zoom into a small portion of that remnant, called the Veil Nebula. Hubble resolves tangled rope-like filaments of glowing gases. Supernovae enrich space with heavier elements used in the formation of future stars and planets — and possibly life.

APOD: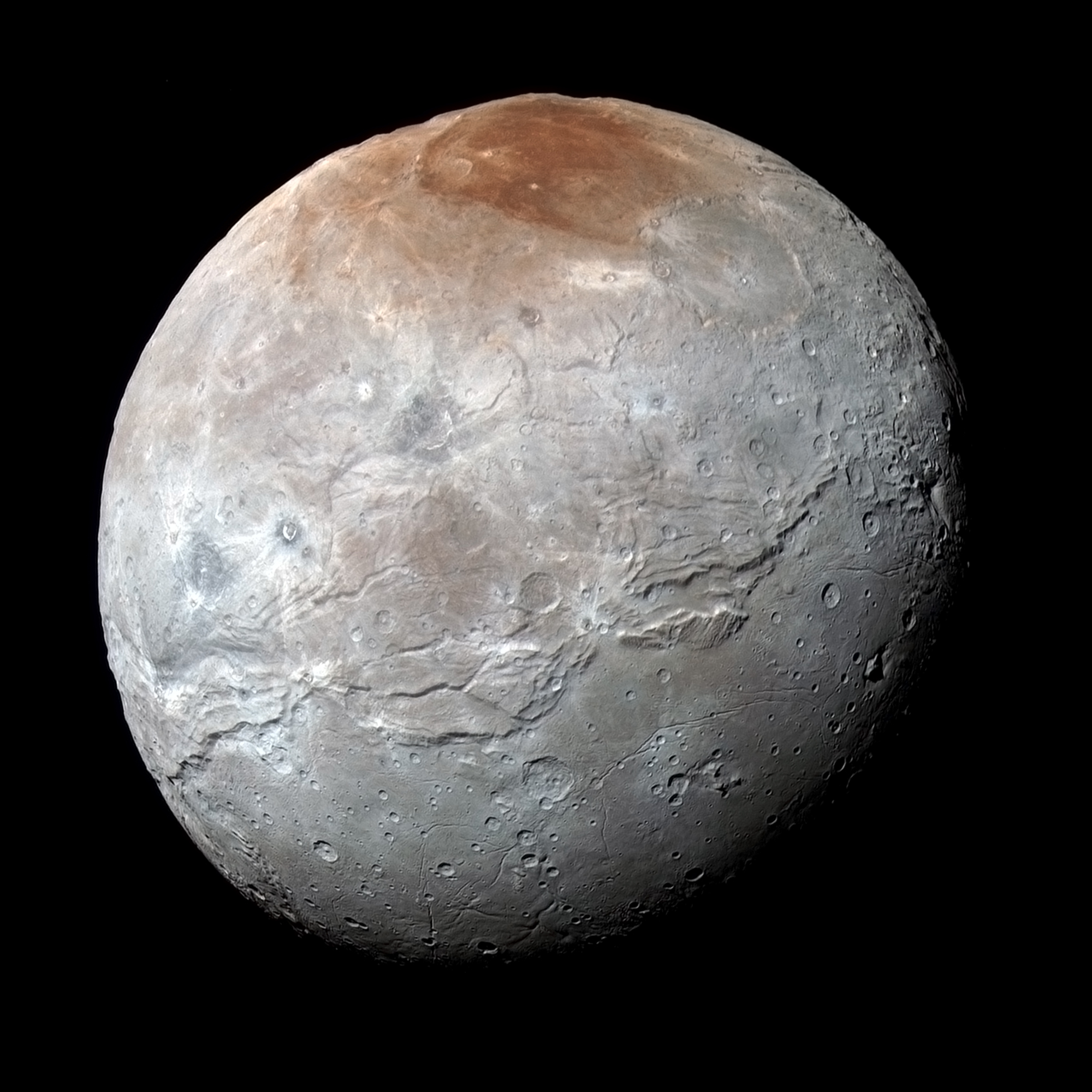 Charon: Moon of Pluto Image Credit: NASA, Johns Hopkins Univ./APL, Southwest Research Institute
Explanation: A darkened and mysterious north polar region informally known as Mordor Macula caps this premier high-resolution portrait of Charon, Pluto's largest moon. Captured by New Horizons near its closest approach on July 14, the image data was transmitted to Earth on September 21. The combined blue, red, and infrared data is processed to enhance colors, following variations in surface properties with a resolution of about 2.9 kilometers (1.8 miles). In fact, Charon is 1,214 kilometers (754 miles) across, about 1/10th the size of planet Earth but a whopping 1/2 the diameter of Pluto itself. That makes it the largest satellite relative to its planet in the solar system. This remarkable image of Charon's Pluto-facing hemisphere shows a clearer view of an apparently moon-girdling belt of fractures and canyons that seems to separate smooth southern plains from varied northern terrain.

APOD:
Eclipsed in Southern Skies Image Credit & Copyright: Yuri Beletsky (Carnegie Las Campanas Observatory)
Explanation: This stunning panorama in southern skies was recorded on the colorful night of September 27/28 from Carnegie Las Campanas Observatory. A diffuse glow and dark rifts of the central Milky Way hang over domes of the twin 6.5 meter Magellan telescopes. But most eye-catching is the deep red glow of the Moon. Immersed in Earth's shadow during the much anticipated perigee-total-lunar eclipse, the Moon's surface reflects the light of sunsets and sunrises scattered and refracted into the planet's cone-shaped umbra. Along with the dramatic hue of the eclipsed Moon, other colors of that night captured by the sensitive digital camera include the red and green shades of atmospheric airglow. Viewers can also spot the Andromeda Galaxy below the Moon, seen as a tiny smudge through the reddish airglow and lights along the horizon. The Magellanic Clouds, satellite galaxies of the Milky Way, join in at the far left of the full panorama frame.
---
Astronomy Online is a personal resource of mine that is made public. Please enjoy the site.

---

ARCHIVED BLOG ENTRIES

---
Advertising within text will be in italics with a link to the ad source.
Observation - This section includes information on coordinate systems, constellations, objects visible in the night sky, and some images of the night sky of the northern and southern hemispheres.
Science - This section includes information on some of the basic science used in astronomy. There is information on the variety of tools used (like telescopes) as well as methods of using them. There is a mathematics primer, introduction to some physical processes, formulas used in astronomy, and information on computer use in Astronomy.

Solar System - As indicated, this section covers our Solar System and everything in it. It covers the Sun, planets, their moons, asteroids, comets and exotic objects like TNO's and Kuiper Belt Objects.
Stars - This section covers stars in our own galaxy. It covers the variety of stellar evolution paths. It also covers supernova, black holes, and some of the radiative processes in the interstellar medium.

Our Galaxy - This section covers our galaxy as well as some of the nearby galaxies in our own Local Group. It also covers galaxy evolution.
Cosmology - This section covers other galaxies and galaxies clusters. It also covers the big bang, relativity and dark matter.
Astrobiology - This section covers the relatively new field in astronomy - the possibility of life in our Solar System and the Universe. There is also information on some of the projects dealing with this - like SETI.

Exoplanets - This section covers the study of planets known to exist around other stars. It covers both amateur and professional involvement and shows you how you can get involved with the search as well.

Astrophotography - This section covers the fastest growing hobby of astrophotography. This section offers information and tips on photography and also features and Image Gallery.
Advertisement
Braindumps Testking 000-105 640-816 SY0-201 70-662 650-987 70-642 1Y0-A18 E22-275