Welcome to Astronomy Online
A legally blind photographer/astronomer on disability so I use this site to contribute to society.

Last Updated: October 24, 2012 added graphics for the 88 constellations under Observation/The Night Sky.

This site is a testament that even though I have a physical disability - legally blind - I can still do things that helps other people. I even have a new project: Astro-Drummer, a site dedicated to my other hobby.
I also have a new image gallery. I call it Second Site Image Gallery.
This is an educational website. It's never too late to learn astronomy, even for those who have not completed their primary (High School) education. A GED can get you in the door to college level courses.

InboxAstronomy:
Hubble Finds Companion Star Hidden for 21 Years in a Supernova's Glare For over two decades astronomers have been patiently monitoring the fading glow of a supernova in a nearby galaxy. They've been looking for a suspected companion star that pulled off almost all of the hydrogen from the doomed star that exploded. At last Hubble's ultraviolet-light sensitivity pulled out the blue glow of the star from the cluttered starlight in the disk of the galaxy. This observation confirms the theory that the supernova originated in a double-star system where one star fueled the mass-loss from the aging primary star. The surviving star's brightness and estimated mass provide insight into the conditions that preceded the 1993 explosion.

APOD:
Median Mashup: Hubble's Top 100 Image Credit & Copyright: Michael West (Maria Mitchell Observatory)


APOD: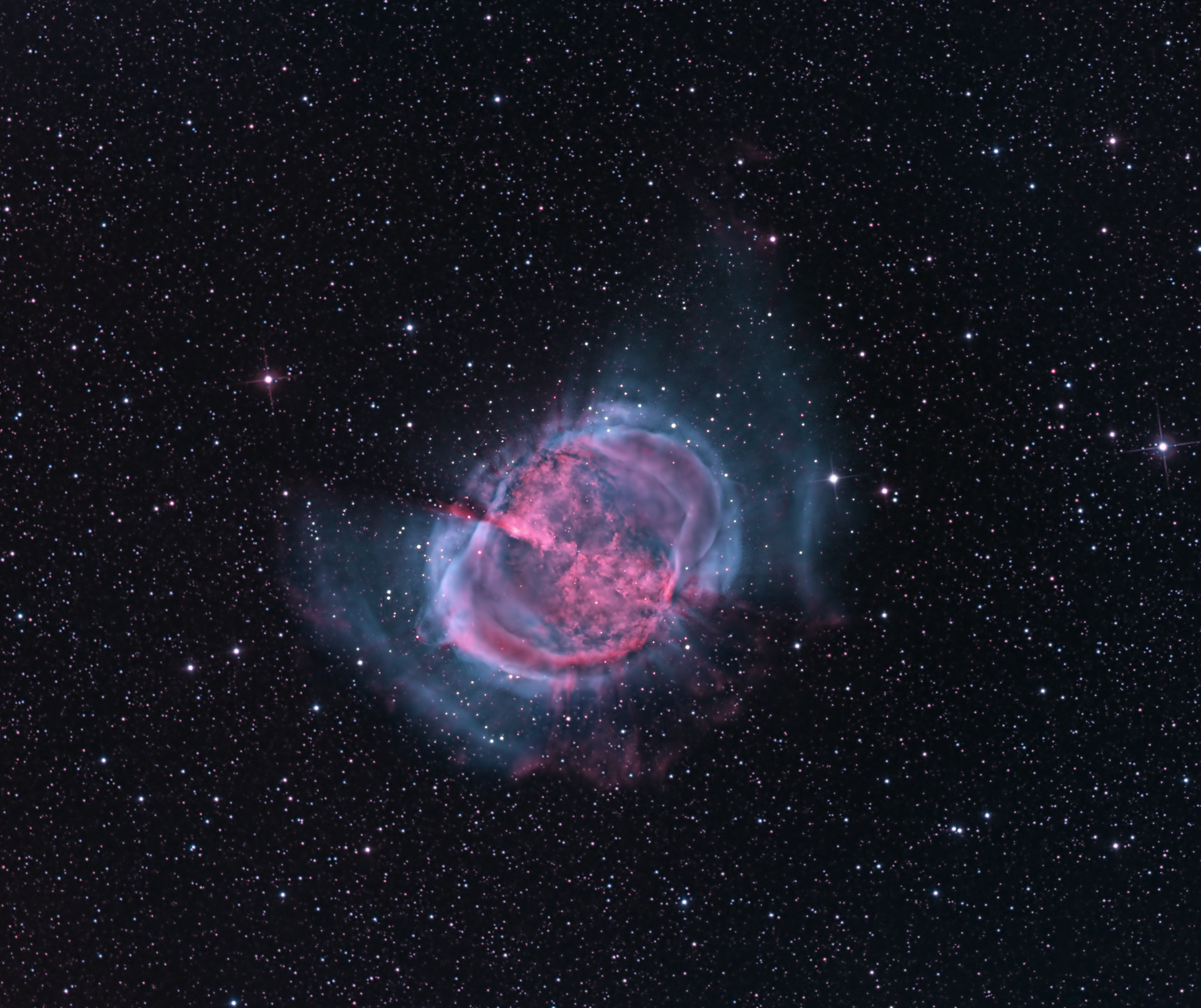 M27: The Dumbbell Nebula Image Credit & Copyright: Bill Snyder (Bill Snyder Photography) Explanation: The first hint of what will become of our Sun was discovered inadvertently in 1764. At that time, Charles Messier was compiling a list of diffuse objects not to be confused with comets. The 27th object on Messier's list, now known as M27 or the Dumbbell Nebula, is a planetary nebula, the type of nebula our Sun will produce when nuclear fusion stops in its core. M27 is one of the brightest planetary nebulae on the sky, and can be seen toward the constellation of the Fox (Vulpecula) with binoculars. It takes light about 1000 years to reach us from M27, shown above in colors emitted by hydrogen and oxygen. Understanding the physics and significance of M27 was well beyond 18th century science. Even today, many things remain mysterious about bipolar planetary nebula like M27, including the physical mechanism that expels a low-mass star's gaseous outer-envelope, leaving an X-ray hot white dwarf.
---
Astronomy Online is a personal resource of mine that is made public. Please enjoy the site.

---

ARCHIVED BLOG ENTRIES

---
Advertising within text will be in italics with a link to the ad source.
Observation - This section includes information on coordinate systems, constellations, objects visible in the night sky, and some images of the night sky of the northern and southern hemispheres.
Science - This section includes information on some of the basic science used in astronomy. There is information on the variety of tools used (like telescopes) as well as methods of using them. There is a mathematics primer, introduction to some physical processes, formulas used in astronomy, and information on computer use in Astronomy.

Solar System - As indicated, this section covers our Solar System and everything in it. It covers the Sun, planets, their moons, asteroids, comets and exotic objects like TNO's and Kuiper Belt Objects.
Stars - This section covers stars in our own galaxy. It covers the variety of stellar evolution paths. It also covers supernova, black holes, and some of the radiative processes in the interstellar medium.

Our Galaxy - This section covers our galaxy as well as some of the nearby galaxies in our own Local Group. It also covers galaxy evolution.
Cosmology - This section covers other galaxies and galaxies clusters. It also covers the big bang, relativity and dark matter.
Astrobiology - This section covers the relatively new field in astronomy - the possibility of life in our Solar System and the Universe. There is also information on some of the projects dealing with this - like SETI.

Exoplanets - This section covers the study of planets known to exist around other stars. It covers both amateur and professional involvement and shows you how you can get involved with the search as well.

Astrophotography - This section covers the fastest growing hobby of astrophotography. This section offers information and tips on photography and also features and Image Gallery.
Advertisement
Braindumps Testking 000-105 640-816 SY0-201 70-662 650-987 70-642 1Y0-A18 E22-275