Welcome to Astronomy Online
A legally blind photographer/astronomer on disability so I use this site to contribute to society.

Last Updated: October 24, 2012 added graphics for the 88 constellations under Observation/The Night Sky.

This site is a testament that even though I have a physical disability - legally blind - I can still do things that helps other people. I even have a new project: Astro-Drummer, a site dedicated to my other hobby.
I also have a new image gallery. I call it Second Site Image Gallery.
This is an educational website. It's never too late to learn astronomy, even for those who have not completed their primary (High School) education. A GED can get you in the door to college level courses.

InboxAstronomy:
Telescopes Team Up to Find Distant Uranus-Sized Planet Through Microlensing The majority of planets discovered outside our solar system orbit close to their parent stars because these planets are the easiest to find. But to fully understand how distant planetary systems are put together, astronomers must conduct a census of all the planets around a star. So they need to look farther away from the star-from about the distance of Jupiter is from our sun, and beyond.

APOD:
Milky Way over Uluru Image Credit & Copyright: Babak Tafreshi (TWAN)
Explanation: The central regions of our Milky Way Galaxy rise above Uluru/Ayers Rock in this striking night skyscape. Recorded on July 13, a faint airglow along the horizon shows off central Australia's most recognizable landform in silhouette. Of course the Milky Way's own cosmic dust clouds appear in silhouette too, dark rifts along the galaxy's faint congeries of stars. Above the central bulge, rivers of cosmic dust converge on a bright yellowish supergiant star Antares. Left of Antares, wandering Saturn shines in the night.

APOD: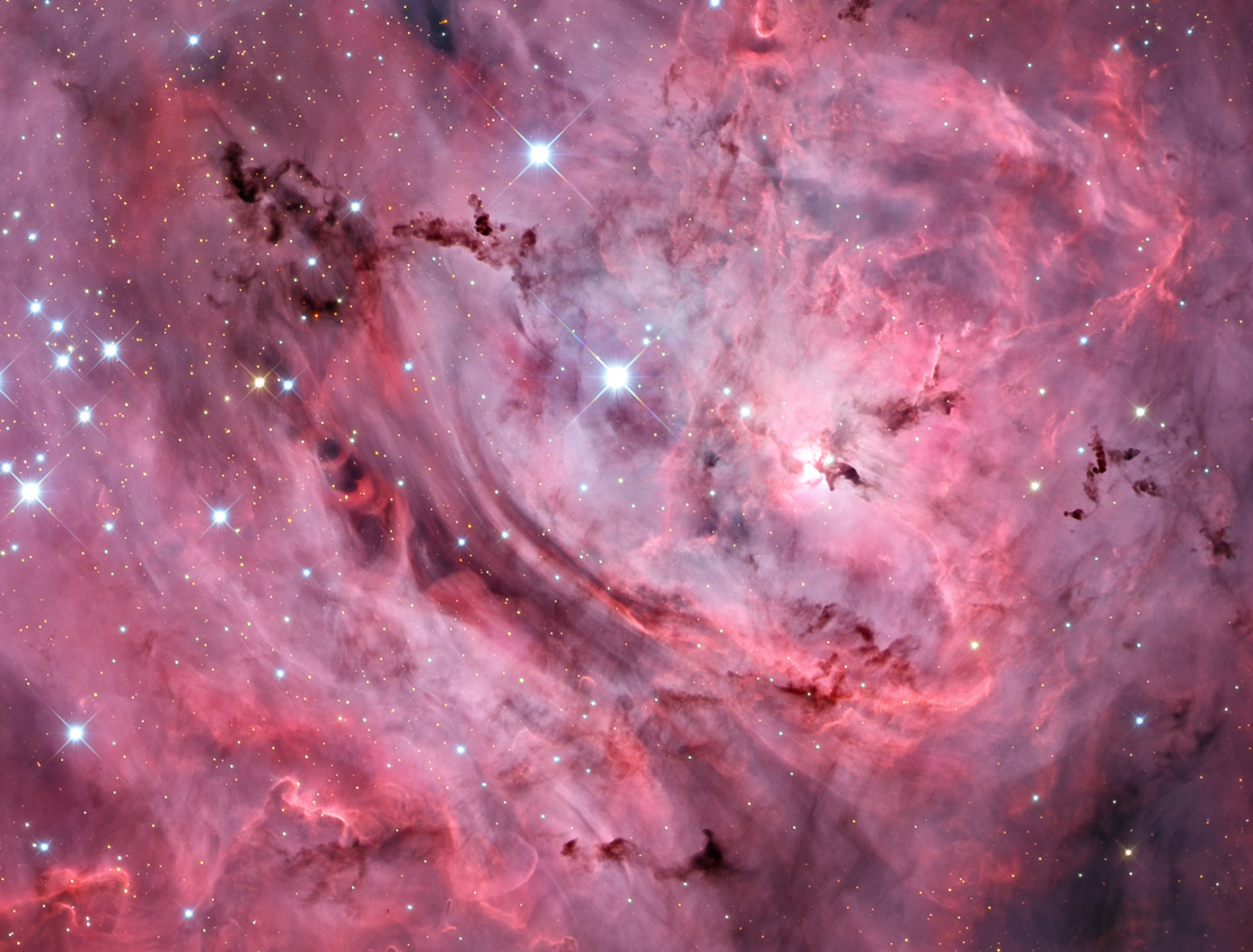 The Deep Lagoon Image Credit & Copyright: Adam Block, Mt. Lemmon SkyCenter, Univ. Arizona
Explanation: Ridges of glowing interstellar gas and dark dust clouds inhabit the turbulent, cosmic depths of the Lagoon Nebula. Also known as M8, The bright star forming region is about 5,000 light-years distant. But it still makes for a popular stop on telescopic tours of the constellation Sagittarius, toward the center of our Milky Way Galaxy. Dominated by the telltale red emission of ionized hydrogen atoms recombining with stripped electrons, this stunning, deep view of the Lagoon's central reaches is about 40 light-years across. Near the center of the frame, the bright hourglass shape is gas ionized and sculpted by energetic radiation and extreme stellar winds from a massive young star.
---
Astronomy Online is a personal resource of mine that is made public. Please enjoy the site.

---

ARCHIVED BLOG ENTRIES

---
Advertising within text will be in italics with a link to the ad source.
Observation - This section includes information on coordinate systems, constellations, objects visible in the night sky, and some images of the night sky of the northern and southern hemispheres.
Science - This section includes information on some of the basic science used in astronomy. There is information on the variety of tools used (like telescopes) as well as methods of using them. There is a mathematics primer, introduction to some physical processes, formulas used in astronomy, and information on computer use in Astronomy.

Solar System - As indicated, this section covers our Solar System and everything in it. It covers the Sun, planets, their moons, asteroids, comets and exotic objects like TNO's and Kuiper Belt Objects.
Stars - This section covers stars in our own galaxy. It covers the variety of stellar evolution paths. It also covers supernova, black holes, and some of the radiative processes in the interstellar medium.

Our Galaxy - This section covers our galaxy as well as some of the nearby galaxies in our own Local Group. It also covers galaxy evolution.
Cosmology - This section covers other galaxies and galaxies clusters. It also covers the big bang, relativity and dark matter.
Astrobiology - This section covers the relatively new field in astronomy - the possibility of life in our Solar System and the Universe. There is also information on some of the projects dealing with this - like SETI.

Exoplanets - This section covers the study of planets known to exist around other stars. It covers both amateur and professional involvement and shows you how you can get involved with the search as well.

Astrophotography - This section covers the fastest growing hobby of astrophotography. This section offers information and tips on photography and also features and Image Gallery.
Advertisement
Braindumps Testking 000-105 640-816 SY0-201 70-662 650-987 70-642 1Y0-A18 E22-275